This is a work in progress. Please send MPN Historical Data, NCS Bios/Email info, Pictures and Website Requests (what you would like to see here) to submissions@themainepotatonet.net
Thanks & 73 de WA5LEE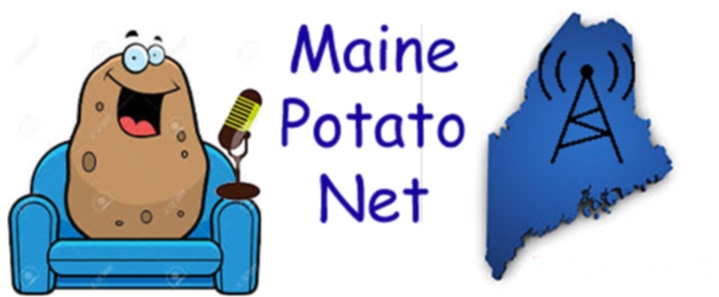 About the Great Maine Potato Net
The Maine Potato Net is a Rag Chew Net founded by potato farmers in Aroostook County Maine in November of 1976. During that period of high long distance telephone charges, the Maine Potato Net served as a convenient and low cost alternative for potato farmers who were also Ham Radio operators to communicate among themselves over the large area of Aroostook County. The Maine Potato Net has grown over the years to encompass several Northeastern states and has had numerous Net Control operators.
The Net Operates on a Nominal Frequency of 3961 KHZ (for the moment)
QRM may force the NCS to QSY up or down by up to 10 KHZ.
The nominal operating hours of the net and the Net Control Stations are summarized below.
Summer Operations During Daylight Saving Time
Net Start Time is 18:00 EDT (22:00 UTC).
On Mondays the Net should END by 18:45 EDT (22:45 UTC) to avoid
interference with the Windmill Amateur Radio Club Net on 3964 KHZ.

Winter Operations During Standard Time
Net Start Time is 16:45 EST (21:45 UTC).
| | | |
| --- | --- | --- |
| Day of Week | NCS | Logger |
| Sunday | N2QFT-Joanna | N2QFT-Joanna |
| Monday | N2QFT-Joanna | N2QFT-Joanna |
| Tuesday | N2FKW-Bob | N2FKW-Bob |
| Wednesday | N2FKW-Bob | N2FKW-Bob |
| Thursday | KC1JZR-Gary | KC1JZR-Gary |
| Friday | KC1JZR-Gary | KC1JZR-Gary |
| Saturday | KC1JZR-Gary | KC1JZR-Gary |
Most of our Net Control Stations make use of the NetLogger application software to log and keep track of checkins during the net. This application software is available for download at http://www.netlogger.org/. Versions are avalable for Windows, Mac, and Linux. Smart phone users (iOS or Android) can use the "On Air Netscraper" App to view what's going on with Netlogger. In addition, please see the following URL for access to a DropBox folder containing several PowerPoint files which provide guidance on setting up and using NetLogger:
Several members of the Maine Potato Net have contributed to a cookbook containing many potato recipes and other favorite recipes. Thanks to Robert – K0PB for compiling this cookbook. The cookbook is available for download at: